MIDI controllers are at the heart of the modern home recording studio.
In fact, if you're a home producer and you don't have one, you're missing out.
Controllers open up a whole new world of musicality.
So let's talk about the best MIDI controllers for bedroom producers…

But if you just want to learn about MIDI Controllers specifically, keep reading.
What Is a MIDI Controller?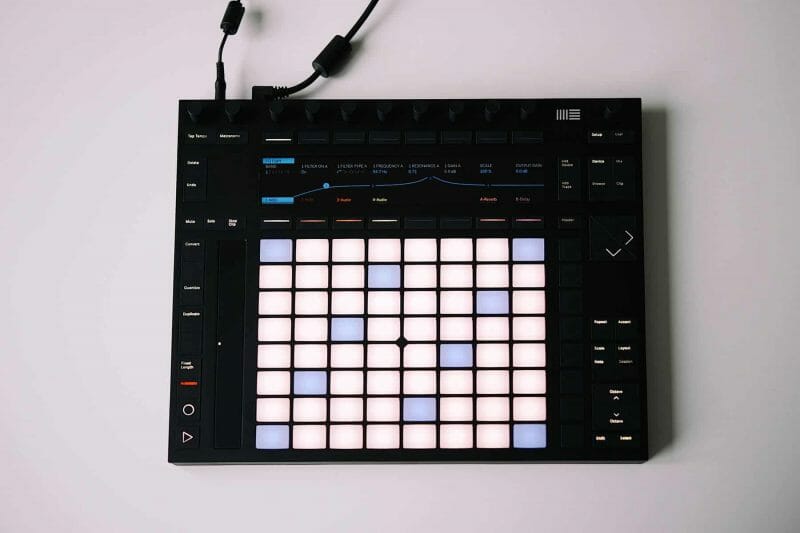 Out of all the pieces of equipment for your home studio, a MIDI controller might be one of the most versatile. And therefore, a must-have tool.
MIDI stands for musical instrument digital interface. A MIDI controller is a piece of hardware that lets you control musical sounds and notes in your DAW.
A MIDI controller can be a keyboard, drum pad-style device, or combination of the two.
However, not all keyboards are MIDI controllers. And not all MIDI controllers look like a keyboard.
Either way, pressing the keys or the drum pads will generate, for example, hits on a virtual drum kit or notes of a virtual instrument.
It also records the velocity of your playing. So if you hit the key or pad harder, the sound will be louder and more intense.
On top of this, a controller can have knobs and dials to further affect the virtual sound you're creating.
How You Can Use a MIDI Controller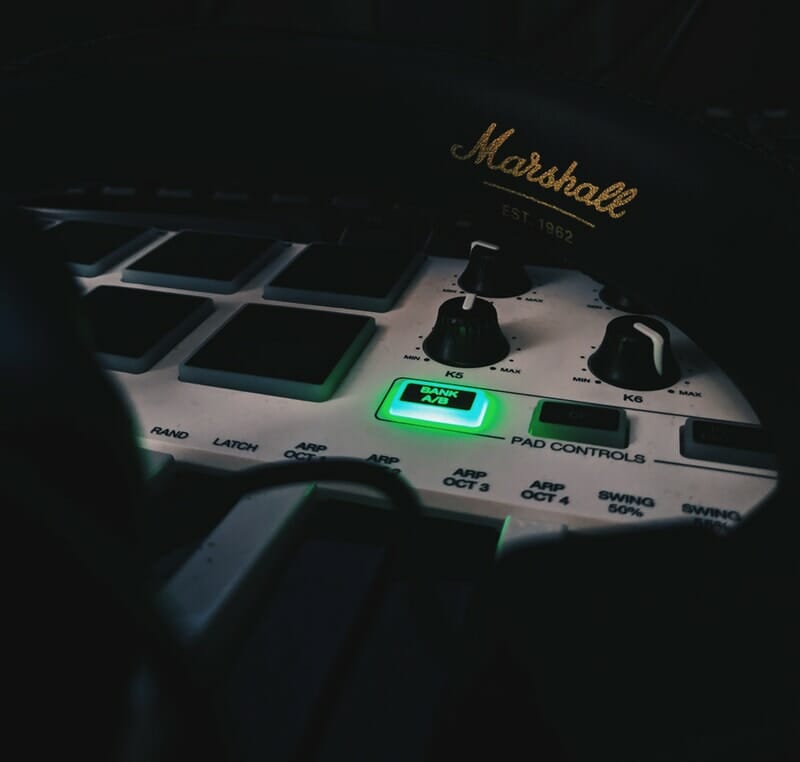 I suggest getting a MIDI controller that resembles a keyboard.
Even if you can't play piano, you can end up with more musical range. Especially if your keyboard MIDI controller comes with a sustain pedal or button.
Use the keyboard-style controller to play virtual instruments, piano or something else. And you can simultaneously learn some piano chords and scales.
And knowing your way around a piano—even just a little bit—can seriously help your music theory.
Here's what I most often use my MIDI controller for:
Beats (with a live drum kit plugin or a drum machine plugin)
Piano (with a live piano plugin)
Strings and orchestral elements
Depending on your software and controller, you can also input custom sounds. So when you play your controller, it plays your custom sound.
This is a great method for sampling your own sounds.
The Best MIDI Controllers
Now let's look at the best MIDI controllers for home producers, regardless of price. These are the best of the best.
Akai Professional MPK Mini Play – $119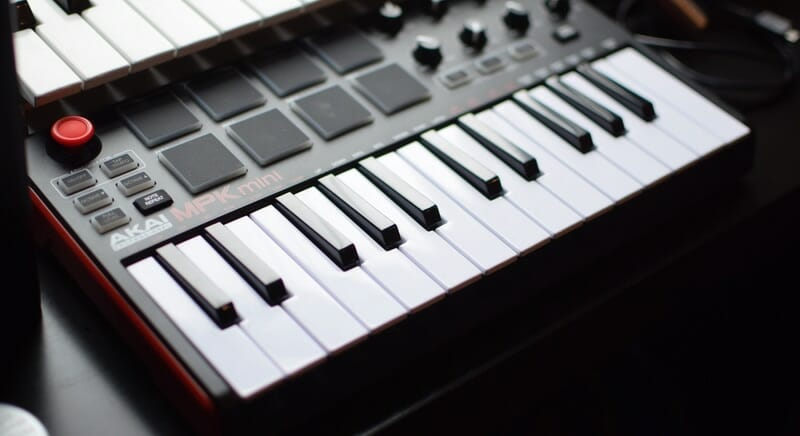 Although the Mini Play only has 25 narrow keys, it has a lot of other buttons and knobs. Two of those buttons let you move up and down octaves.
It comes with 128 sounds and 10 drum kits built in. As well as eight pads to play the sounds on.
Plus, it has a speaker. So you can hear what you're playing without a computer.
You also get these knobs:
Attack
Release
EQ low
EQ high
Filter
Resonance
Reverb
Chorus
And it comes with Pro Tools First, so you'll be all set right out of the box.
Akai is a reputable brand when it comes to keyboards and MIDI controllers. So this is a solid option.
Akai Professional LPK25 – $69

I own this MIDI controller, and it was a smart buy.
It was affordable, yet it still allows me to produce high-quality sounds. In other words, it's great for someone new to MIDI controllers who isn't a pianist.
The LPK has only 25 non-weighted keys, so it's not a two-handed keyboard.
But it does have octave buttons. It also has a sustain button and arpeggiator feature.
Arturia KeyStep Pro – $399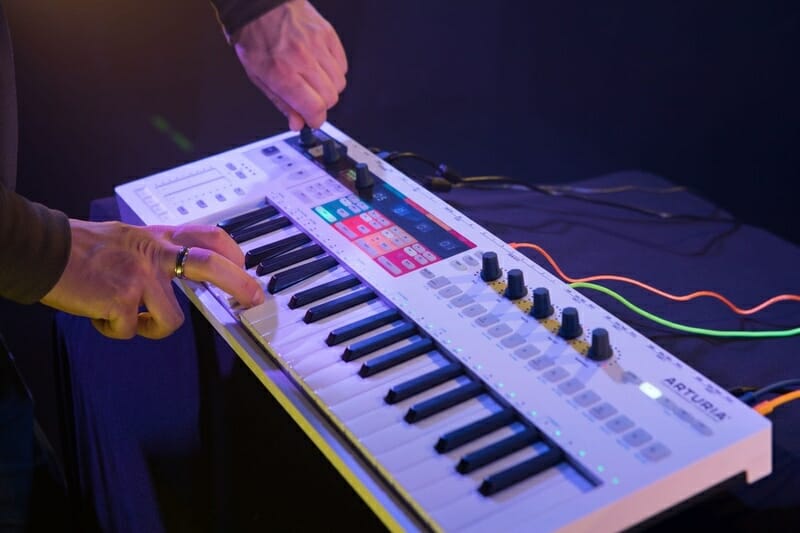 The KeyStep Pro is a controller and sequencer combined.
This 37-key controller has tons of sequencing settings, dials, knobs, and buttons. Although the keys aren't full-sized, you can still play what you need to.
It also has a metronome, built-in speaker, and on-the-fly editing settings. Making it great for songwriting, as well as recording.
Native Instruments Komplete Kontrol S49 – $669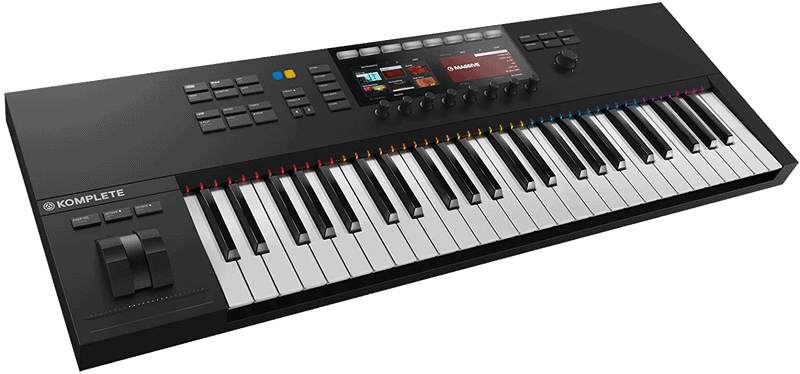 Native Instruments is one of those companies that you can pretty much always trust.
It has two pitch and modulation wheels, an arpeggiator, two visual displays, and many other knobs and buttons. So you've got plenty to play with on the S49.
But the coolest feature is Smart Play. The LED lights above the keys light up depending on what you want or need to play.
You can choose which scale you're in. And the lights will indicate what notes you can play in that scale.
The lights are also color-coded for drum instruments. (Kicks are red, hi-hats are blue, etc.)
Plus, the lights get brighter when you play them.
Sadly, it's only available for these DAWs:
Logic X 10.3.1 or higher
GarageBand 10.2.0 or higher
Ableton Live 9.2.3 or higher
Cubase Artist or Pro 8.5 or higher
Nuendo 7.1.35 or higher
Studio One 4.5.3 or higher
All in all, a great choice for non-pianists and pianists alike.
Nektar Impact LX88+ – $319.99

The Impact LX88+ is an 88-key controller and sampling pad. Making it perfect for home producers.
For example, it has a feature called Pad Learn. That makes it fast and easy to reassign your chosen sound to one of the eight pads.
It also has nine control faders, eight control pots, and pitch and modulation wheels. So you have a lot of control over your sound.
It works with these DAWs:
GarageBand
Bitwig Studio
Cubase
Reason
Digital Performer
Nuendo
Sonar
Studio One
Novation Launchkey 49 MK3 – $219.99

Even though it's made for Ableton Live users, the 49-key MK3 will work just fine with any major DAW.
With pitch and modulation wheels, 8 knobs, 9 sliders, 16 pads, and many other controls, this is both versatile and easy to use.
It has Scale mode, which tells you what keys you can play in your chosen scale. And it has Chord mode, which makes it so that every key you play harmonically works.
It's perfect for newbies and experts alike.
Conclusion
These MIDI controllers span the realms of versatility, quality, and affordability. So it's just a matter of choosing the right one based on your budget.
But whichever one you choose, you can know these are some of the best controllers out there.