It was a lonely quiet night. I hadn't slept for 20 hours. My coffee was depleted and my energy even more so.
Despite this, I had just spent the last 3 hours of my life searching for an audio editor that would do what I needed.
I had over twenty different pieces of software that had audio editing capabilities. Yet none of them could perform the simple task that I wanted to carry out.
Eventually I found an application that did exactly what I wanted with minimal effort. To be frank, I was ecstatic.
That event inspired me to try out every free audio editor out there and compile this list.
If you are thinking about setting up your own home studio, and you want to start looking at the available free audio editing software out there, you are in the right place.
Get industry-quality every time (steal this framework)
I'm guessing you're here because you want to make your mixes sound professional.
We put together a brief training that covers a totally new approach to music production. Until now, everyone has been teaching production totally backward.
Just click below to watch.
But if you just want to learn all about audio editors specifically, keep reading.
Which Audio Editor Do I Use?
Audacity (Windows, Mac, Linux)
This is the godfather of free audio editing software. You can multi track to an extent (have more than just one stereo track e.g. a full band recording). There are a range of effects and plugins, and it's easy to use once you get used to it. It's by far the most popular free audio editing software. Volume automation is easy using the envelope. Deleting and muting sections of audio is also a breeze. Recording is easy too. Tip: Reset all the gain sliders if you want to do a gain staging/ track balancing. You might also like our post on how to eq vocals.
It does have its drawbacks though. The user interface is not particularly appealing, and there a lot of features that you'll rarely use that clutter the tool bar.
It looks a bit ancient, but it gets the job done. This is an awesome starting point for anyone wanting a free editor.
Link: Audacity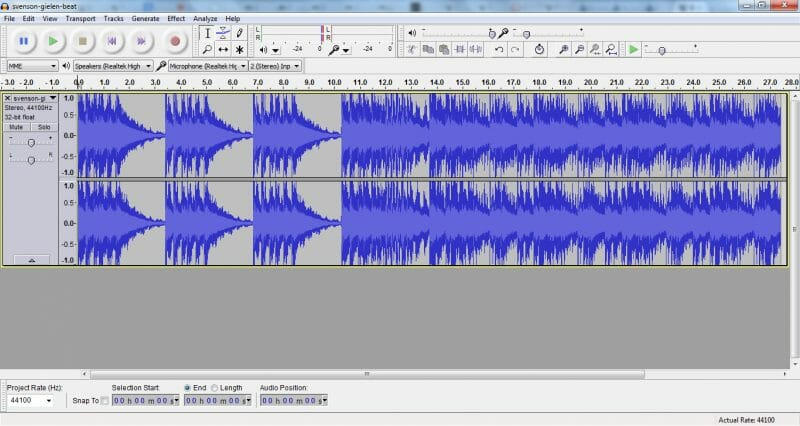 ocenaudio (Windows, Mac, Linux)
This new simple audio editor has a clean and colourful user interface. It's so easy to use! It's fast and it's lightweight compared to Audacity.
It's bundled with loads of effects (including compression, EQ and reverb) that you can apply and tweak in real-time.
This is a huge benefit as most free editors are destructive (they record effects straight to the audio) so you have to rely on a 'preview' button. This is how Audactiy works, for example. But in ocenaudio you can play with the parameters of the effect and hear the changes instantly.
The editor has VST support so you can use your own plugins. It's easy to record audio straight in to the software as well. There are lots of useful tools (such as a spectogram) for the more advanced user.
One downside of this software is that it only supports single stereo/mono files. You can't have a multi-track session and record several instruments in your home studio and mix them. More on recording voice and mixing vocals here.
But for editing stereo music files, or mono audio files (such as a voice recording) this is awesome. It's also relatively simple in terms of features compared to Audacity, although they aren't trying to compete on that front.
Link: ocenaudio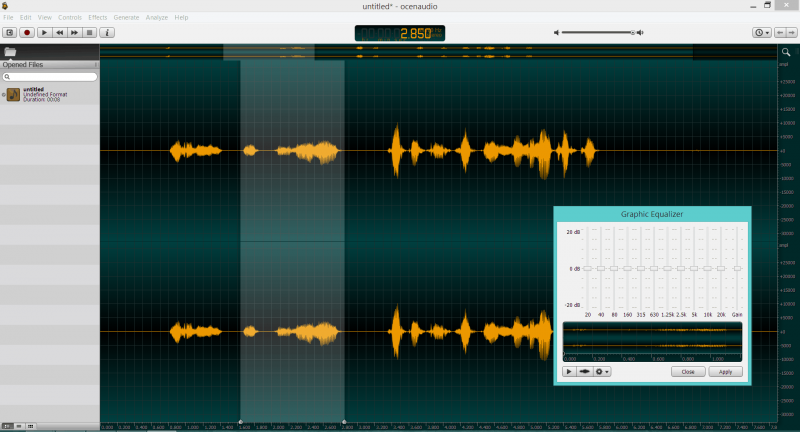 Hya-Wave (Chrome)
This is a member of the new wave of online audio editors that run in your internet browser. And it's my favourite of that bunch.
Released in January 2015, I only discovered this a few months ago. The interface is clean and user friendly and the learning curve is pretty much non-existent. Three cheers for simplicity!
It doesn't support multi-tracking but you can copy, paste, cut, clear and crop your audio. You can load and save in the cloud, apply live effects and share to social media or via URL (take a listen to a song I applied some compression and a high-pass filter to here: )
Browser based DAWs could be the future of audio editing. There are several out there for music composition already and now more audio editors are appearing too. Click here to see how to master a song at home.
This is ideal if you are recording or editing on the fly and don't want to install large programme on to your laptop.
Link: Hya-Wave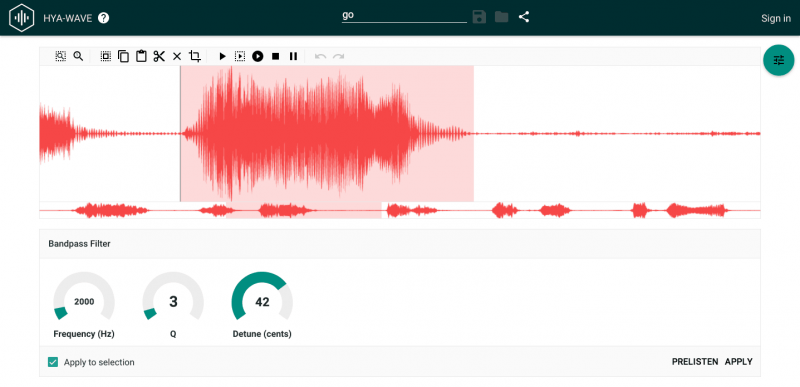 WavePad (Windows, Mac, iPad, Android)
A slightly older DAW, but still highly useful. The interface may not be as sleek as some of the editors listed here, but it makes up for this in features.
It's easy to install and easy to use. There are lots of bundled effects including noise removal, compression and reverb. There are also some great analysis tools for more advanced users. Reverse reverb: here's how to create this cool trick.
Pitch and speed changes are possible. So is audio scrubbing, which can be very handy. It doesn't support multi-tracking so you can only edit stereo or mono audio files.
My absolute favourite feature of this software is the batch processing (which I discussed in the introduction). You can apply compression, reverb, EQ or any effect to a number of audio files at once. This can save you HOURS in the right situation.
Link: WavePad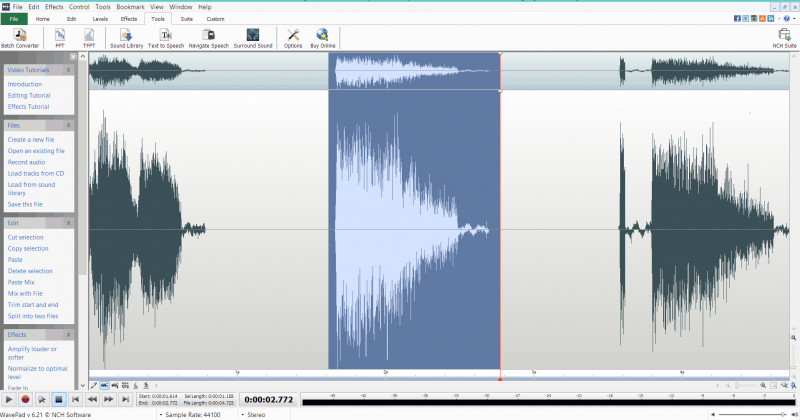 TwistedWave (web app, Mac, iPhone)
Another awesome online web application for editing sound. Again, it can't multi-track, but it makes up for this with usability and features.
It's easy to normnalize your audio and the effects are easy to apply.
Quick tip: like a lot of audio editing software, if you delete a section of audio the rest will 'shuffle' back so that there aren't any gaps. If you want to remove noise without shuffling the audio, you need to 'mute' or 'silence' the section with noise.
In TwistedWave you can do this easily by highlighting the section of audio that you want to mute and hitting 's' on your keyboard!
Link: TwistedWave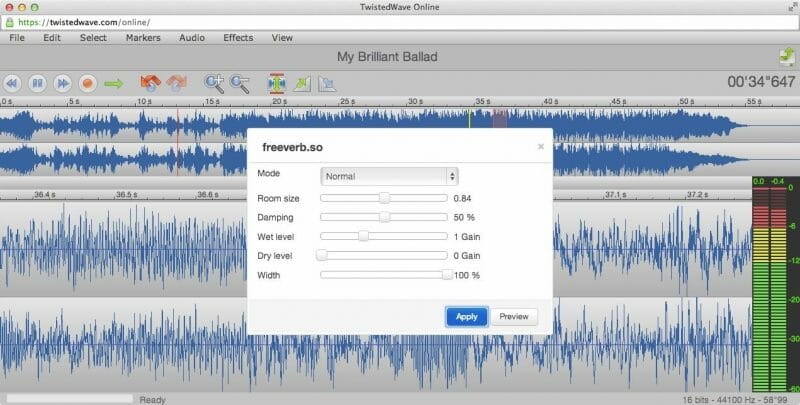 Wavosaur (Windows)
This one is a bit ancient. Dinosaur… Wavosaur… get it?!
It's looks like the missing link in the evolutionary chain between tape cutting (prime apes) and modern best DAWs (humans).
Joking aside, this application may be basic, but it works. The download is only 1.3MB. Now that is small!
And it's not that old. The latest version was released in 2013. It's a good piece of classic Windows music production software. No frilly bits, no messing about. Straight to the point.
It supports VSTs but doesn't come with any. If you want to apply effects you'll need your own. There are loads of great analysis tools and volume automation is easy.
It's very basic and doesn't look great. But if you just want to get the job done without downloading a huge application, it's perfect.
Link: Wavosaur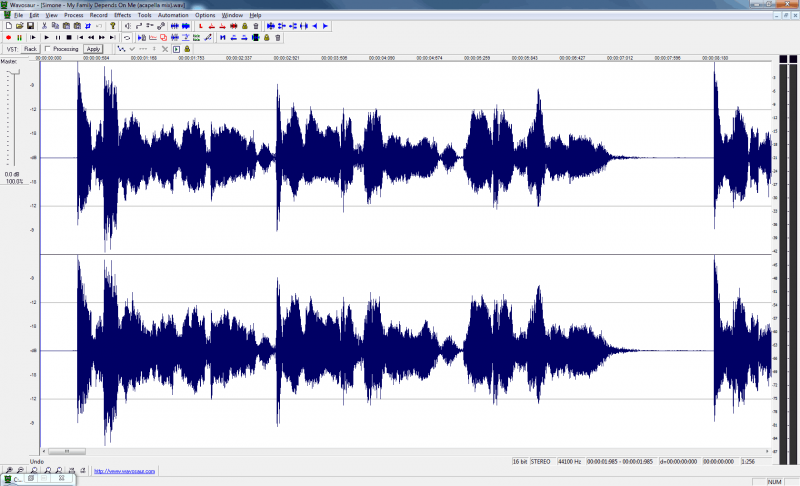 Soundation (web app)
This is a great online application that also functions as a multi-track DAW. This means you can have several audio tracks playing at once.
The interface is attractive. It's easy to record. Volume and pan automation are easy to perform. You can change the color of the tracks to keep them more organised. Time stretching is also supported and there are a range of effects and plugins.
There is an awesome looping feature reminiscent of Logic Pro. This application is geared just as much to music composition and arrangement as audio editing.
Yet this may be it's downfall when considered an audio editor – it's features and workflow are perhaps better suited to arranging music.
Link: Soundation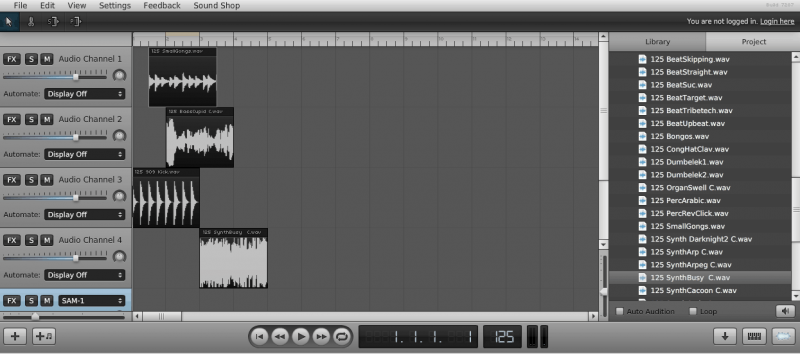 Acoustica Basic (Windows)
Easy to set up a project and start recording. It has a scrub tool which can be extremely useful! Unfortunately the basic edition does not support multi-tracking but there are some great analysis tools.
This is also the only free audio editor that I have come across that comes with a convolution reverb (a special type of digital reverb you can use to semi-accurately model any room). You have to use your own impulse files though.
Link: Acoustica Audio Editor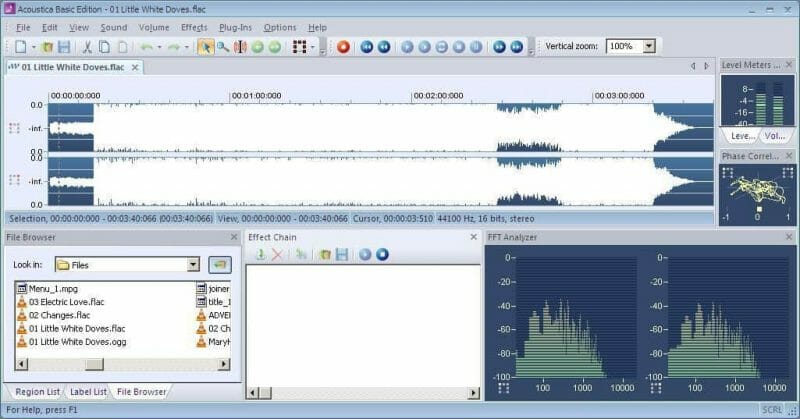 Audio Cutter Pro (web app)
If you just need to crop some tracks and add some fades, this tool is perfect. It's simple, the interface is great and the keyboard controls are intuitive.
You can also import files from Dropbox or Google Drive so it fit's in perfectly with cloud based storage.
Link: Audio Cutter Pro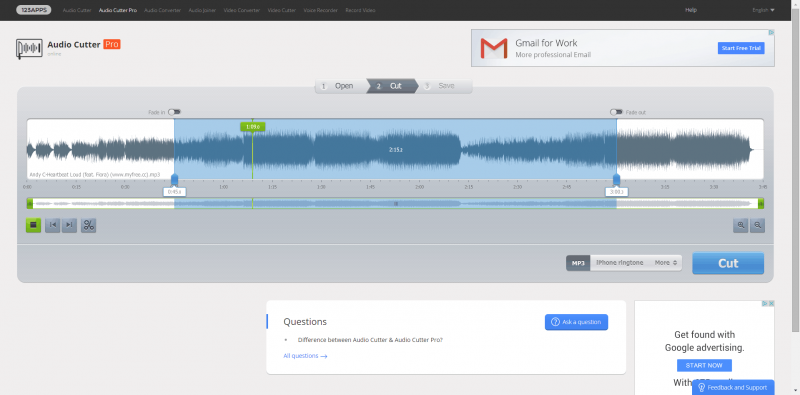 Nero Wave Editor (Windows)
Another simple and free audio editor. There's nothing particularly special about this one, but it will meet basic audio editing needs.
You can apply effects non-destructively which is pretty useful. You can also create your own presets.
Link: Nero Wave Editor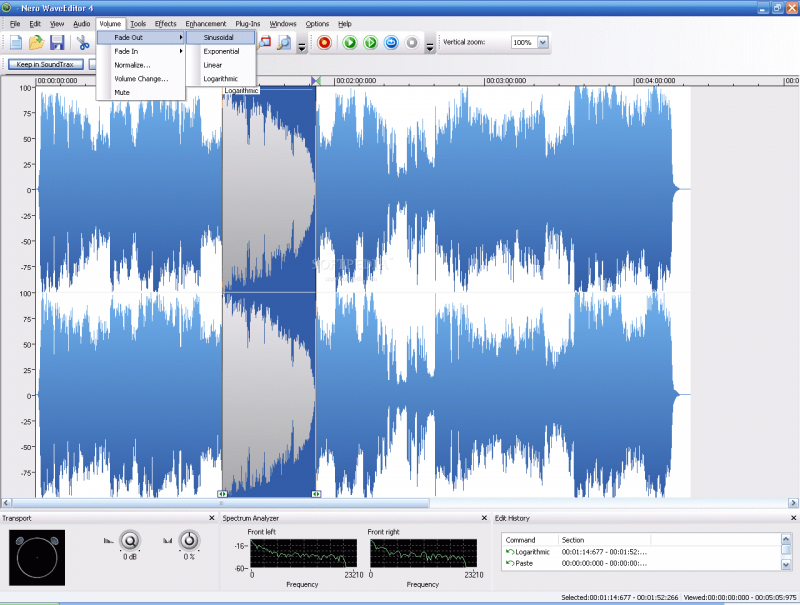 WaveShop (Windows)
WaveShop supports multi-channel audio (up to 18 outputs) which could be useful in the right situation. It also claims to be 'bit-perfect', so samples aren't changed needlessly.
I can't think of any more reasons why you would want to use this over any of the other editors listed here. But it's worth taking a look if you want a simple Windows application for basic audio editing.
Link: WaveShop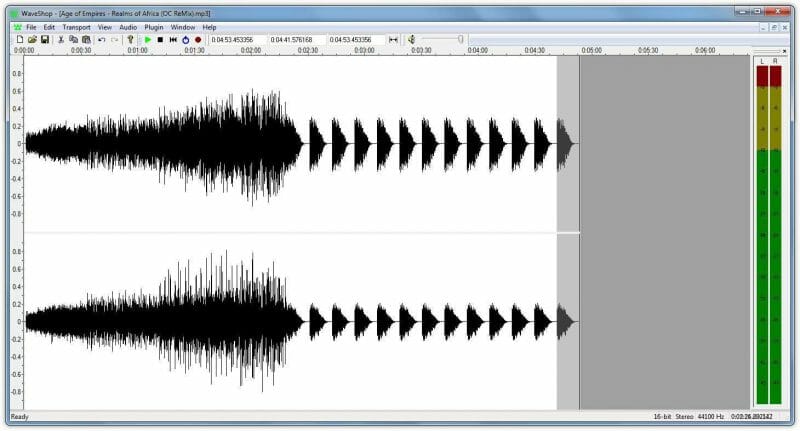 Qtractor (Linux)
A colourful and sleek UI, multi-track support and even a mixer! This one is perfect for Linux users.
Unfortunately I don't have anything running Linux so I can't give this a try myself. It has some great reviews though.
Link: Qtractor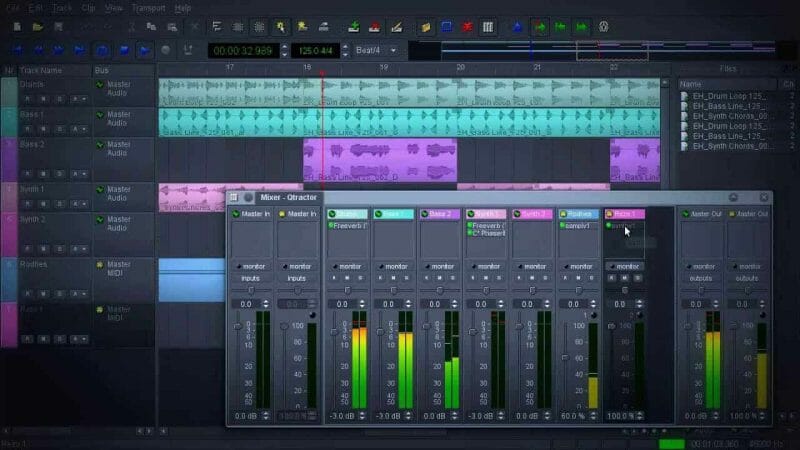 Audio MP3 Cutter Mix Converter (Android)
If you need to make edits on the move, check out this Android app.
It has over 1 million downloads, 55,000 ratings and a range of features.
Link: Audio MP3 Cutter Mix Converter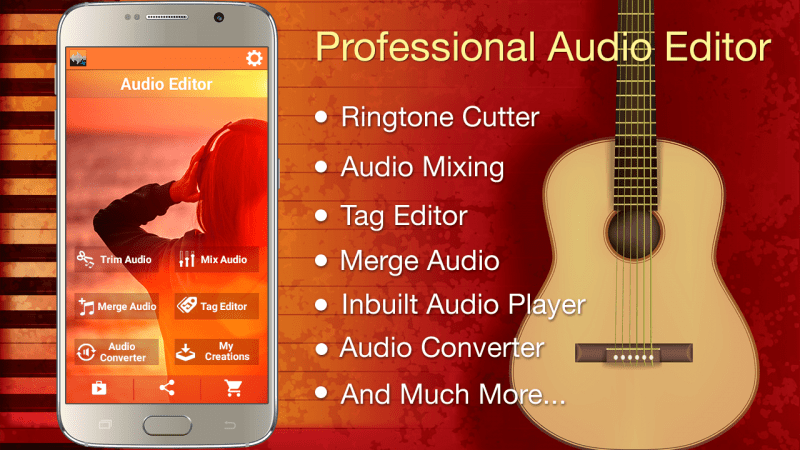 Next Steps
If you want to dig deeper into music production and learn what it actually takes to make mixes that sound pro…
And you're an intermediate or advanced producer…
Be sure to check out the free masterclass:
Enjoy!