There are countless Kontakt libraries out there, it can be difficult to find the rights ones for you.
To help you make the right choices, we've put together this list of the 11 best Kontakt libraries.
A Quick Note…
It's worth mentioning that none of the companies who create these sample libraries are paying us to talk about them.
This article isn't an advertisement for any one plugin maker. After trying out tons of different options, these are the ones we felt were the cream of the crop.
Don't have hundreds of dollars to spend on premium libraries? Don't sweat it!
There are a handful of solid, free options out there as well.
If your budget is $0, check out the honorable mentions. I've added my favorite free Kontakt libraries at the bottom of this list.
They usually aren't as versatile or high def as the premium ones. So you may want to upgrade eventually.
Spitfire Albion One – $449
If you want a full orchestra at the lowest possible price point, Albion One is for you.

Albion One is a pro-grade library with strings, brass, woodwinds, and percussion. New composers or anyone working on a budget will get a lot out of Albion.
As far as full orchestras go, there are pricier libraries that come with more articulations. But Albion is still the best bang for your buck.
This is the best price you'll find for a pro-grade, full-fledged orchestra library.
The only downside is the reverb. There's lots of room reverb baked into the recordings.
This is great for writing big songs. But you'll have a harder time getting smaller, more intimate sounds.
Spitfire Studio Orchestra Professional – $798

Ok, ok, I know the price tag is high. But hear me out.
Spitfire Studio Orchestra is a bundle of four high-quality libraries.
It'll last you years, if not decades. If you buy this library, it should be a long-term investment
Strings, woodwinds, percussion, and brass are all there.
Orchestras come in many shapes and sizes. A symphony is much bigger than a chamber orchestra.
Part of what's great about the studio orchestra is that it splits the difference.
There's 30 recorded performers. So you can write parts that sound close and intimate or big and bombastic.
The main criticism of Spitfire libraries is all the reverb they have baked in. Studio orchestra is their answer to this problem.
These samples don't sound totally isolated.
But the release is still reined in compared to their other libraries. Giving you more room to shape the tone of your mix.
Joshua Bell Violin by Embertone – $199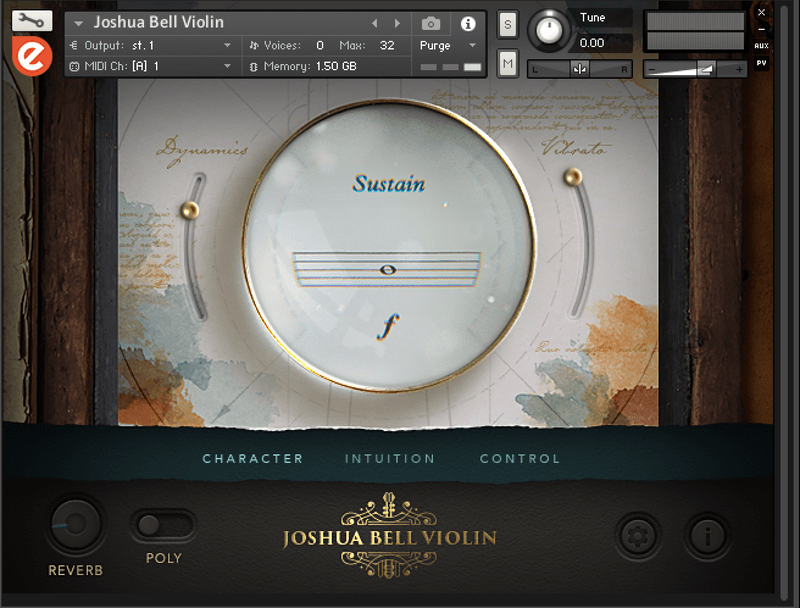 Embertone's Joshua Bell Violin is the most powerful solo violin library on the market.
What really impresses me about this violin (aside from its sound) is how playable it is. A lot of string libraries require a lot of expertise to get a professional sound.
But right out of the gate, this violin has a rich, full tone.
That being said, it still has all the bells and whistles you'd want from a professional violin.
Are you a complete beginner? Or a veteran producer?
The Joshua Bell Violin will stay in your DAW template for years.
Cinesamples CineBrass Sonore – $169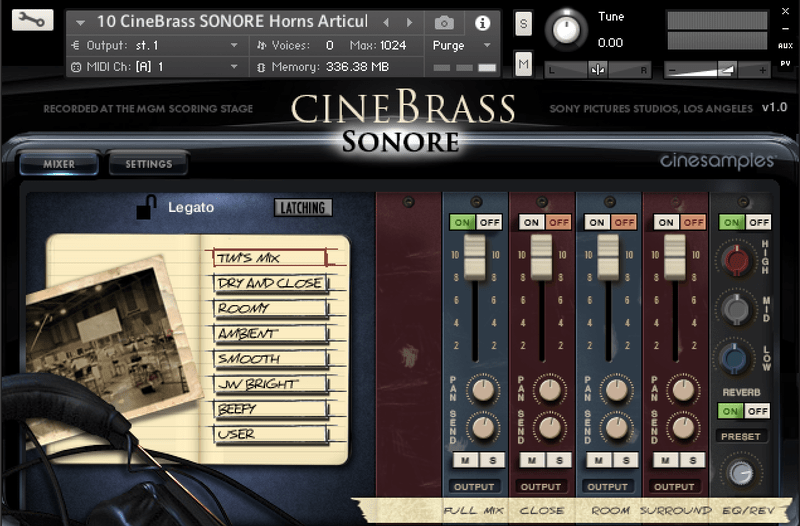 The best word for Sonore is regal.
It's inspired by the lush horns of '80s and '90s film soundtracks. Think along the lines of the Jurassic Park theme.
In fact, Jurassic Park partially inspired this library. After discovering the original session recall sheets from when the soundtrack was recorded, Cinesamples set out to recreate the classic horn sound.
Asking the players to perform with as much resonance as possible, Cinesamples used much of the same exact gear that was used for the sessions they were emulating.
All in all, they've created a warm and colorful horn sound that will settle over your songs like a thick blanket.
Check it out!
This example uses only Sonore Brass. It's even mixed using Sonore. The only thing I've added is some bus compression for consistency.
There are tons of brass libraries that focus on a more contemporary symphonic sound. In these libraries, the brass is meant to be big and in your face. And they're great as well!
But Sonore brings something unique to the table. A sound that a lot of producers want for their songs but struggle to nail down.
Make sure to read through the full product page if you get Sonore! They've included plenty of tips that will help you get the tone you want.
Evolution Hollowbody Blues by Orange Tree Samples – $179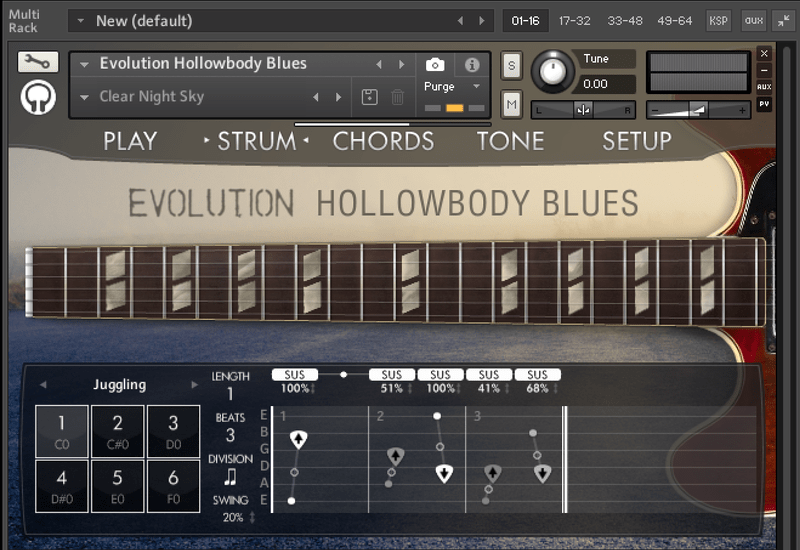 Guitars are notoriously difficult to render in MIDI form. This is due in no small part to some really key differences between pianos and guitars.
Performance tricks like hammer-ons, slides, and picking styles are hard to mimic with piano-based MIDI.
That's where Orange Tree excels. Their guitar libraries offer an intuitive bridge between these instruments. And Evolution Hollowbody does it beautifully.
You can create strumming patterns that include all the intricacies of a guitar part.
The pattern view makes it easy to write guitar parts that could actually be played on a real guitar. From chord voicings to hammer-ons…
So why highlight Hollowbody specifically? After all, their other guitar libraries are solid as well.
I chose Hollowbody for this list because of its undeniably classic tone. Hollowbody guitars have graced classics across genres.
You might prefer the tone of a different guitar shape. But I can guarantee you that a Hollowbody will never let you down.
Evolution Flatwound Bass by Orange Tree Samples – $179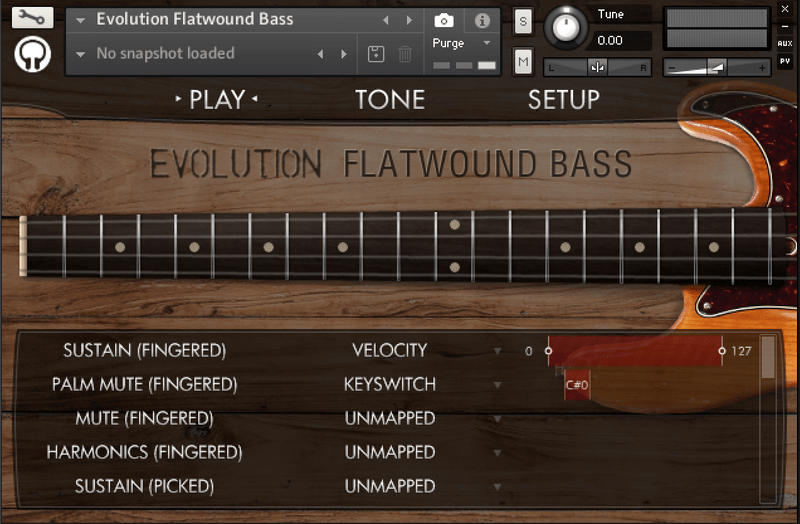 Orange Tree Samples is back on the list with their Flatwound Bass instrument.
As a flatwound player myself, I was thrilled to find a library that gives me the same beautiful, warm tone. So if you want a smooth low end, Flatwound is for you.
Looking for a brighter bass? Don't fret! (Sorry…)
Evolution Flatwound comes with plenty of ways to change its sound. In the tone view, you can add all kinds of effects and amps to the bass.
For example, you could change the EQ curve and run it through a brighter amp cab.
Damage by Heavyocity – $299
There's a reason this library is so well-known.
Damage is one of the most exciting and unique Kontakt libraries out there. Weighing in at 60 GB of drum samples, explosions, and impacts, you won't run out of possibilities any time soon.
If it sounds big and powerful, it's probably in this instrument.
With all these powerful transients, Damage is perfect for percussion. If you want to add grit and excitement to your drums, look no further.
Sound designers will get a lot out of it as well.
Modern Animated Percussion by Sample Logic and Soundiron – $299
Modern Animated Percussion is more than a collection of percussion samples.
It's a lean, mean, writing machine! You can load up to four sounds at a time.
Each sound has its own sequencer. And each sequencer comes with preset patterns.
Basically, with MAP you can build your song's rhythm in a matter of seconds.
Of course, you can get more involved if you'd like.
You can edit each of the four sequencers to your heart's content. With velocity control, stuttering, step counts and more.
The New 1928 Scoring Piano by 8Dio – $198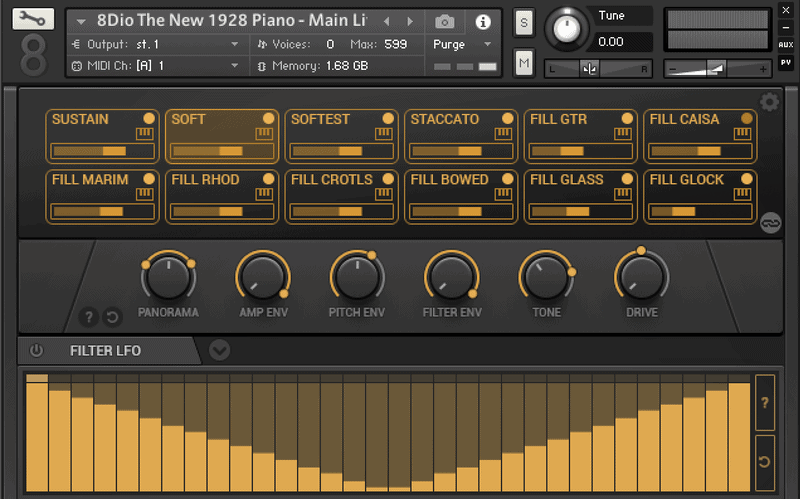 The competition for best piano was tight. There are tons of mind-blowing piano libraries out there.
So why the 1928 Steinway?
Obviously it sounds amazing, otherwise it wouldn't be on this list!
But the feel is just as important as the audio quality. And that's where 1928 really shines.
8Dio's 1928 Steinway supercharges the emotion of any song. Whether your music is intimate or grandiose, 1928 can match it.
Plus, it comes with a handful of other instruments and effects. So in addition to the piano, you get plenty of extra tools for scoring and sound design.
Requiem Light by Soundiron – $199
Need a professional choir but don't have the budget to rent out a cathedral? Requiem Light is a full-fledged choir that lives right inside your computer!
Requiem was originally created for creating exciting trailers and scores.
It's got a huge, cathedral sound that fits right in with large arrangements. But there are plenty of articulations and sounds to match different dynamics.
You can choose between Latin syllables and words to create phrases. Or you can select two different syllables to crossfade between.
This is how you can smoothly transition between sounds.
Discovery Series Collection by Native Instruments – $199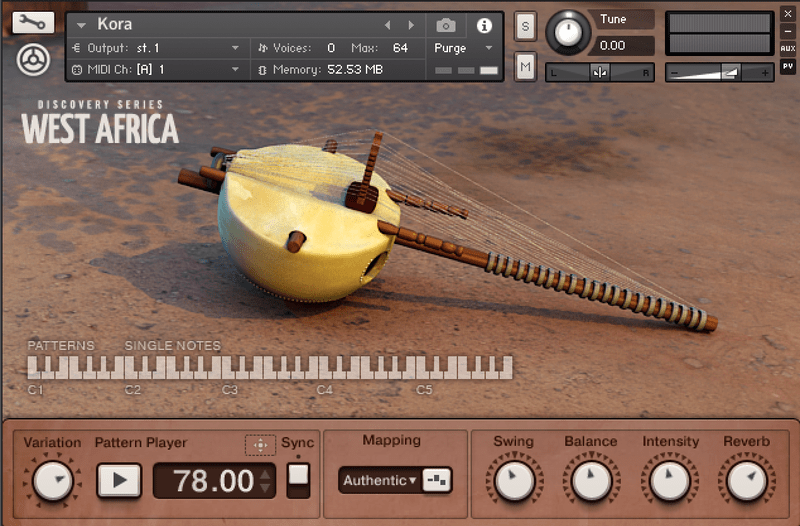 Looking for traditional instruments from around the world? The Discovery Series has you covered.
The full collection has tons of instruments from five different regions of the world: the Middle East, India, Cuba, West Africa, and Bali.
The percussion instruments from the West African library are stellar.
And the Gamelan instruments are standouts as well.
You can expand your musical horizons by engaging with different musical cultures.
Just be mindful of the sounds you use!
Some of these instruments have specific meanings in their home cultures. You may want to do some research before dropping them in a song!
Honorable Mentions
Full Symphony: Sketching Orchestra by Bigcat
Solo Violin: Stroh Violin by Impact Soundworks
Guitar: Shreddage 3 Stratus Free by Impact Soundworks
Bass: Shreddage 3 Precision Free by Impact Soundworks
Drums: DrumMic'a by Sennheiser
Piano: Sol's Piano by Pianobook
Choir: Ancient Voices by Embertone
Conclusion
These are the best, most unique Kontakt libraries you can get your hands on.
Whether you're composing for films or producing radio hits, you're bound to get a lot of use from any one of these.