Recommended for Solo Artists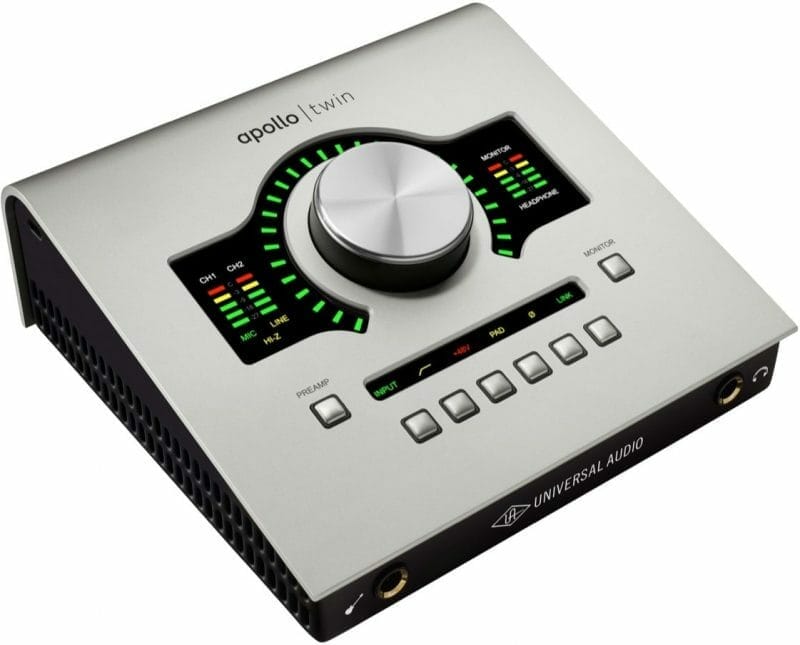 UA has become one of the most sought-after interface companies in the audio world. From pro to home studios, you can find UA gear in each of them.
The UA Apollo Twin MKII SOLO is a small little interface that is a great option to get you into the UA world.
Its two outstanding preamps have combo XLR and ¼" jacks for microphones or instruments. It also has an optical cable on the back to expand your inputs, if you need it.
It also features outputs for a pair of monitors. Plus a second pair of outputs to use for an accessory of your choosing.
The interface also has a great monitoring system with a large volume knob, mono switch, dim switch, and talkback feature.
What really makes these interfaces shine is their DSP capability.
Each UA interface features a processor that runs UA plugins. They range from high-quality emulations of preamps and compressors to EQs and reverbs.
You can only get these plugins on these interfaces and they are truly amazing.
The added bonus of using the UA system is the interface handles processing. That takes a load off of your computer to process a bunch of plugins.
The Apollo Twin is a great way to get into the UA ecosystem. If you're looking for a small setup with incredible sound quality, look no further.