"Ugh!"
Where the heck do you find jobs? How can you prove to people you're the perfect person for their next musical project?
That's where SoundBetter tries to help.
Let's look at how this platform works and if you can actually find work on it…
What Is SoundBetter?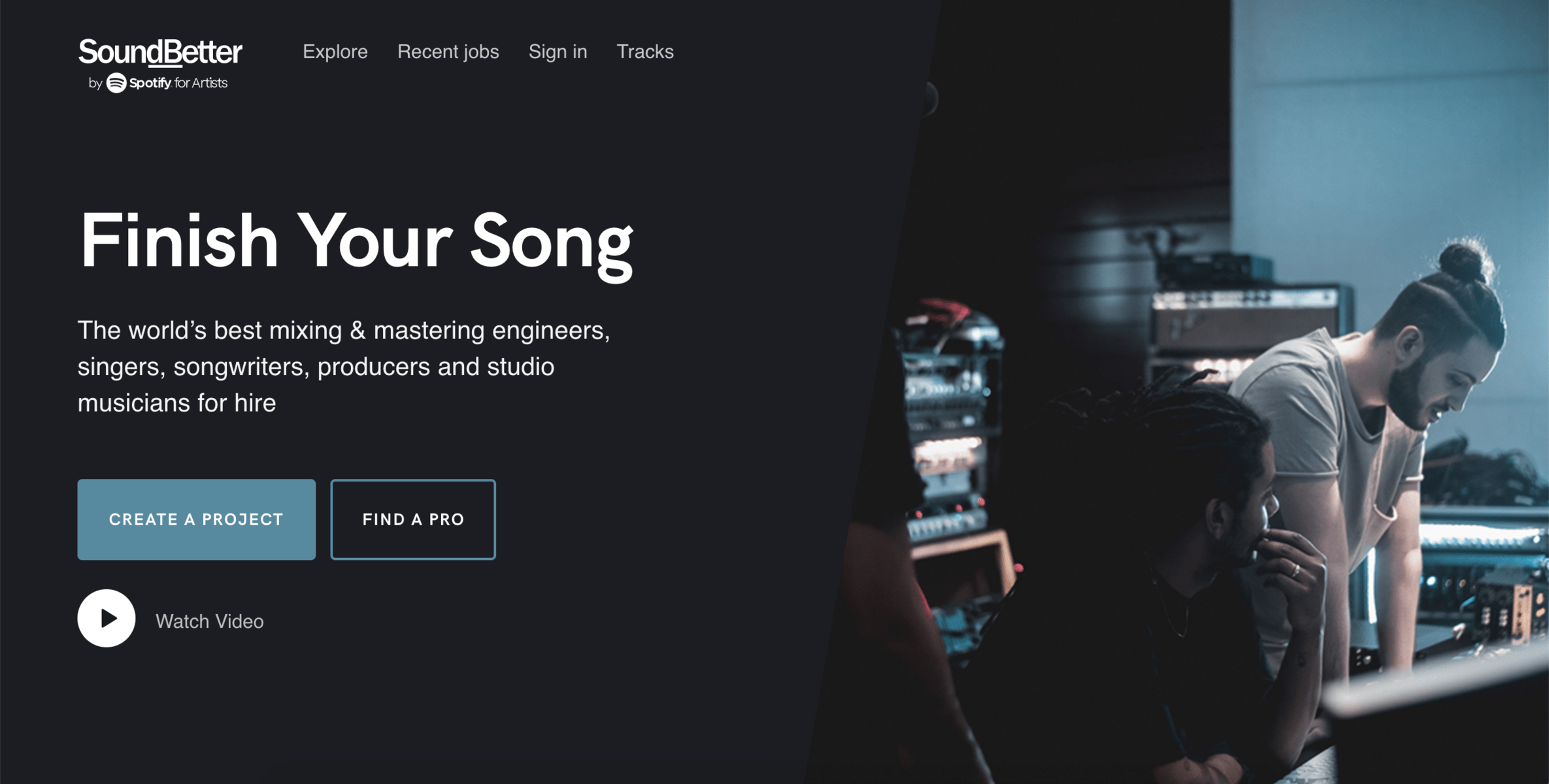 SoundBetter is a platform to connect producers with musicians who want to hire them.
The company says they have "tens of thousands" of users looking for work. From singers to mixing and mastering engineers.
So the database of producers is large.
Here are some of the producers the company mentions on their about page:
Kanye West's producer
Beyonce's songwriter
Herbie Hancock's engineer
Morrissey's guitarist
The Killers' mixing engineer
George Michael's mastering engineer
Okay, not bad.
And SoundBetter reviews every producer who wants to join, including you. So the quality control is definitely of utmost importance to them.
Plus, they've "delivered millions of dollars" in work to producers. That's great and all, but the question is…
How can you get some of those dollars?
How to Make Money on SoundBetter
The idea of SoundBetter is cool. But can it actually bring you producer work?
Also, Spotify bought the platform in 2019. So are they going to underpay their artists like they do for streaming?
Let's assume, for the sake of this post, you can—for sure—make money on this platform. Despite what you think of Spotify.
So how do you do that?
The first step is to sign up and choose your account type: free or premium.
A free account lets you set up a profile and be contacted by musicians looking to hire you.
I have a basic account, and I've been contacted by a handful of people inviting me to apply for jobs. Although I haven't landed any yet.
Unfortunately, you don't have access to the job board. So you can only apply for jobs musicians have contacted you about.
A premium membership gives you full access to the job board, so you can apply to any available job on the platform.
SoundBetter will also show your profile higher in searches. And ranking higher is the main thing that will increase your income on this platform.
For that reason, the next thing you must do is fully complete your profile.
This includes the following:
Your bio and header photo (the first elements a visitor will see)
The services you offer
The genres you work within
Tracks that highlight your skills
Your credits
The Q&A section
Extra photos of you
The gear you use
Your turnaround time for projects
How many revisions you'll do
Make sure you put the last two under the terms of service section.
It's a lot of info to fill out. But it's better to give people more info than you think they need.
And don't take my word for it…
Tom DuPree III is a professional drummer and producer on SoundBetter. He has over 200 verified, positive reviews on the platform.

He says you need to fill out every single aspect of your profile if you want to succeed.
"Everything you put on your profile is a way for a potential client to get to know you before the two [of you] ever speak," he says.
"I can't tell you how many profiles I've seen on SoundBetter that are either half-completed, completely phoned in, or an exact carbon copy of someone else's."
In other words, building out your profile is the foundation for your success on this platform.
As you fill out your profile, focus on what you're good at. Niche down.
Offer a few services—just your best skills. Pick a handful of genres that would make sense together.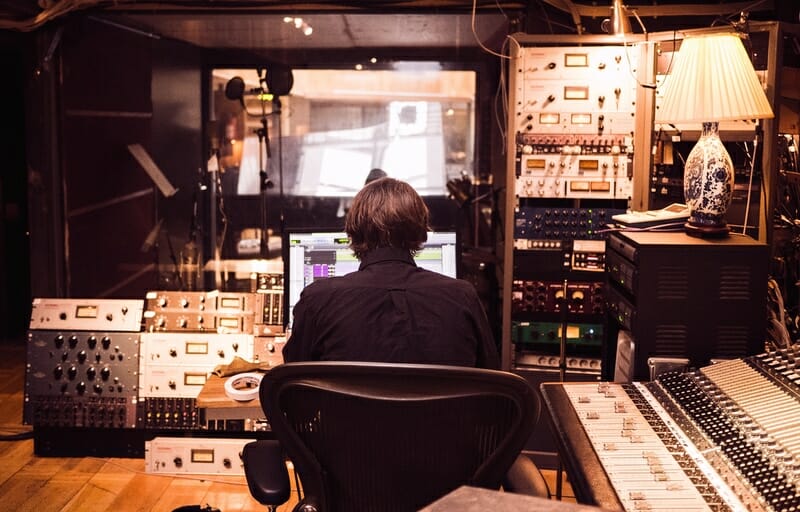 Offer services related to your main instrument and a couple of other skills. (For example, songwriting, mixing, and mastering).
If you do too many things in drastically different genres, you won't do well on SoundBetter. People won't know what they should contact you about.
As for the review section, ask your previous and current clients to leave a review. Anyone you've worked with as a producer or musician, contact them and ask for a nice review.
When they leave a review, it will be listed as unverified. You only get verified reviews from clients you've gotten through SoundBetter.
But when you first sign up, you'll only be able to get unverified reviews.
After you've got your entire profile set up, apply for a premium membership.
Yes, you have to apply.
You'll complete an application and wait to interview with the folks at SoundBetter. There's a waiting list, and it's long.
So it's best to apply ASAP. Get on the waiting list and then focus on making music.
It's good they vet you. Your leads will end up being better because potential clients will know you're legit.
"When it comes to remote work, trust is the name of the game," says DuPree.
Lastly, start sending your current and potential clients through SoundBetter.
This will give you experience on the platform and verified reviews. And it will allow you to rank higher in searches.
"This is about leveraging your existing relationships to create new ones," DuPree points out.
"And you're not asking your existing client-base to do anything other than use a different platform for payment."
Speaking of payment…
What Should You Charge as a Producer on SoundBetter?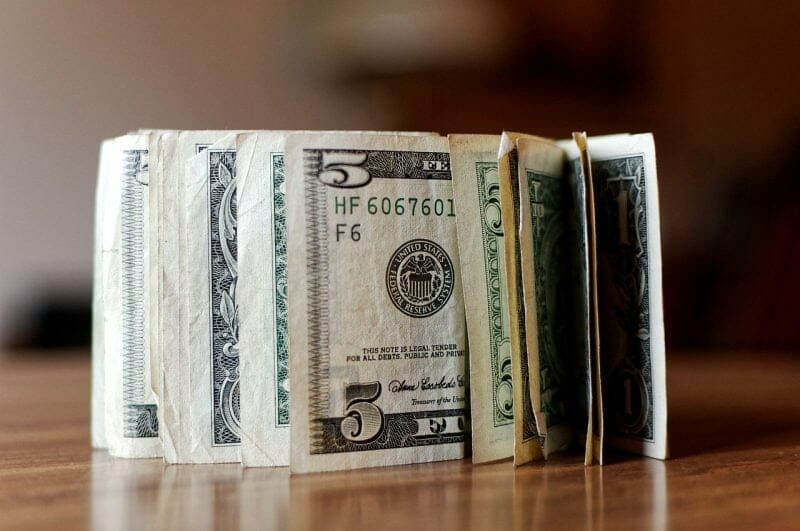 Every producer and project is different, so it's difficult to just give you a number.
You have to consider a few things:
Your experience level
What your competition charges
The demand level for you as a producer
What's the easiest way to figure out your freelance producer rates? Especially as a beginner or intermediate producer…
Decide how much you want to make per hour.
Don't charge per hour, but give people project quotes based on your desired hourly rate.
So let's say you want to make $30 an hour.
Someone contacts you about a project that you estimate will take 10 hours. In this case, you'd quote them $300 in total.
Don't mention your hourly rate. Just give them the flat-fee amount for the project.
This is how I've done it when people have hired me to write jingles or edit audio.
It makes it easy for the client to budget. And it gives me incentive to get the job done in a timely manner.
But that's not all…
You should also ask for a percentage of the royalties. Bake it into the deal from the get-go.
Just in case the song you produce for them blows up, you'll want to be rewarded appropriately.
It may be easiest to ask for a percentage of the songwriting royalties. Many musicians have a publishing company that may not be willing to give up any publishing royalties.
If you're new to the producing world, you could start by asking for 5%. Then as you gain experience, you can eventually ask for 20–25% of the royalties.
You'll also want to keep in mind that SoundBetter will be taking 8% of everything you make (5% to them, 3% to PayPal).
Also, if you get accepted to be a premium provider, the cost is $59 a month. Granted, 1–3 jobs could easily pay your membership fee for the year, depending on the size of the projects.
Just think long-term. You're trying to build a portfolio of clients and projects.
The more money you make, the less drastic that 8% will seem.
What Do Users Say About SoundBetter?
One of the best ways to know if a product or service is worth it is to listen to the current users.
For SoundBetter, there wasn't much to go off of. On their website, they of course only have positive reviews.
I can't fault them for that. (Why would you try to make your company look bad?)
But on a Reddit thread about SoundBetter, one user called it a "rip off." Because there weren't enough job listings to justify paying the monthly fee.
And as a free user, you can't see the job board but can only be invited to apply by the job poster.
However…
The user named itamaryu who claimed to be one of the founders of SoundBetter responded. They said about half of the $2 million SoundBetter producers made as of 2016 went to basic members.
They also said they "reject most" of the applicants to the premium program.
When do they accept premium providers? Only "when we are sure we have enough work for them to get a great return on their investment."
Those are some fair points.
You can also get an idea of how many producers and musicians get jobs through the platform. Check them out here.
Remember, verified reviews mean one of two things. The producer got that job through SoundBetter or sent their client there for payment.
But the only way to know whether SoundBetter is worth it for you is to give it a try.
Conclusion
I think it's safe to say you can definitely get jobs through SoundBetter.
And if you follow the steps in this blog post—especially the tips from DuPree—you'll do well on the platform.
Just keep making music, always try to get better, and be patient.