We've all had that nightmare: you're standing in front of an incredible crowd, ready to perform your heart out.
But once you start playing, you realize you can't hear yourself. The song is littered with mistakes, and the massive crowd dwindles to a couple stragglers.
Kiss that bad dream goodbye!
This list of the best in-ear monitors will help you find the perfect pair. So every show sounds awesome.
What Are In-Ear Monitors?
In-ear monitors (IEMs) are earbuds. They act as stage monitors for each individual musician.
Without them, every musician relies on the same speakers to hear themselves. With them, each musician has their headphones and their own mix.
In-ear monitors have two parts: the transmitter and a receiver.
The transmitter sends the monitor mix to each set of receivers.
Each receiver is a smartphone-sized belt pack that the musician wears. The pack picks up the signal from the transmitter and sends it through the connected earbuds.
IEMs have been around since the '80s. But they've been affordable for only about the past 20 years or so.
As the story goes, Stevie Wonder had his own radio station, Wonderland Radio, during his tour in 1987.
He would wear a Walkman FM radio receiver tuned to Wonderland, where his concert was airing live.
So wearing the Walkman while walking around the stage, he'd be able to hear his mix live via his radio station.
His sound engineer was Chris Lindop. Chris later used this idea to make smaller versions of the same thing for other artists.
Fast-forward and the availability and affordability of current-day IEMs is good news for us indie musicians.
When to Use In-Ear Monitors
The most common use of IEMs is playing live music in a band. IEMs give you a bit more control over what each band member hears because each pack has its own settings.
So the bassist and drummer can turn each other up in their headphones. And the singers can turn each other up in their ears.
Many musicians don't love IEMs, while also finding them necessary in many cases to get the best live sound.
Lucy Rose, vocalist in the band Bombay Bicycle Club, sums it up nicely.
"For singing with loud bands, I understand why you would use [IEMs]," she says. "But for quieter music, I prefer using monitors."
Some musicians use IEMs in the studio.
Then they don't have to wear bulky studio headphones. Especially if they're shooting a live performance video.
Little earbuds are more aesthetically pleasing to most viewers.
To protect your ears off-stage, you may want to invest in some nice earplugs.
The Best In-Ear Monitors
So what if you find yourself in a situation where you need to hear specific parts of a mix – whether live or in the studio? Here are the best in-ear monitors on the market.
And don't forget to factor in the cost for a transmitter and receiver if they don't come with the earphones!
Shure PSM 300 ($699-$1199)
The belt pack included in the Shure PSM 300 IEM is about the size of a small iPhone.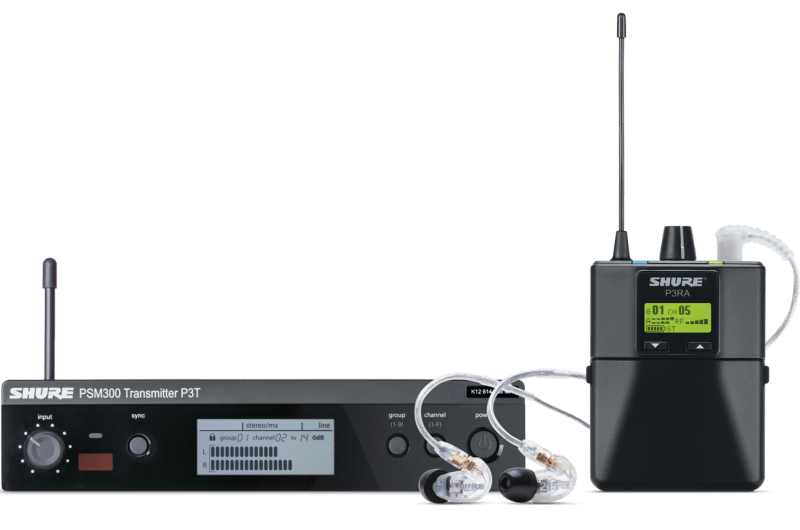 The controls are pretty simple: a volume knob and two arrows that scroll through the different settings.
The settings include two-band EQ, stereo balance, and mixing two sound sources together. Basically, each band member can adjust two other instruments in their earbuds.
Each receiver runs on two AA batteries and has about a five-hour life span before you have to replace them. There's also an optional rechargeable battery and charging station.
There is a version that can handle up to eight receivers. Although it's unlikely you have that many members in your band.
All you do is plug everything in, hit the sync button, and you'll be ready to go.
What do customers have to say?
Customers say this unit eats up the energy from the AA batteries. But they say it's worth it for the high-quality sound.
You can make sure you hear what you want to hear at a level that works for you.
Shure PSM typically comes in packages with everything you need.
Audio-Technica ATH-E70 ($399)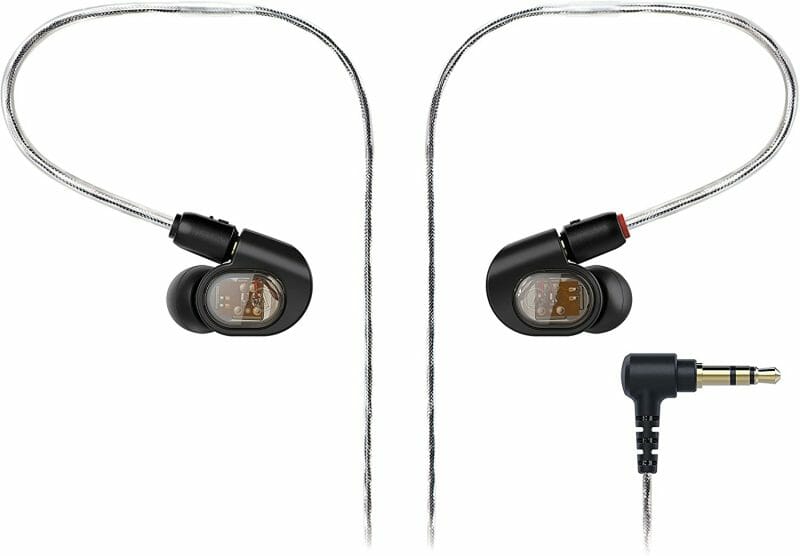 Audio-Technica is another trusted name in the audio world. And their ATH-E70 IEM does not disappoint.
The E70s are comfortable earbuds. And their "memory" cables mold around your ear, keeping them in place.
This means they stay put, even if you're jumping around the stage.
The audio quality is decent. The low end, low mids, and higher frequencies all sound present.
The bass, of course, doesn't have as much oomph as your studio headphones may have. But it's still there.
They do not come with a receiver or transmitter.
What do customers have to say?
A retired audio engineer used the word "wow" when reviewing this IEM. So you know it has to be good.
Once you figure out how to make the earbuds sit correctly in your ears, the sound boasts clarity and depth.
Shure SE215 ($99)
For the affordable price of the Shure SE215, it offers decent sound quality.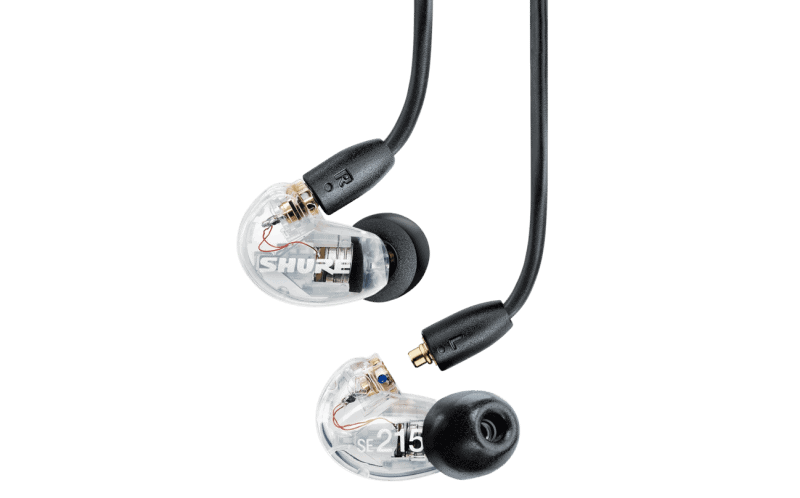 It's got a nice balanced sound, and it doesn't distort, even at loud volumes. (Although you shouldn't be listening too loudly.)
The built-in mic isn't that great, but you'd use these as an IEM, not for making phone calls.
You can get the wireless Bluetooth version, or you can get the removable-wire version.
Having removable wires can add years of life to this IEM. If the wire shorts out, you can just replace it instead of getting new earbuds.
Shure says the battery life is about eight hours, depending on volume levels.
The SE215's do not come with a transmitter or receiver
What do customers have to say?
A professional musician who plays live often said this:
These IEMs are clear and bring out the much-needed high end. And they can easily replace an onstage monitoring system.
Mackie MP-240 ($149-$199)
Mackie isn't known for their headphones, but the MP-240 is one of the better IEM options available.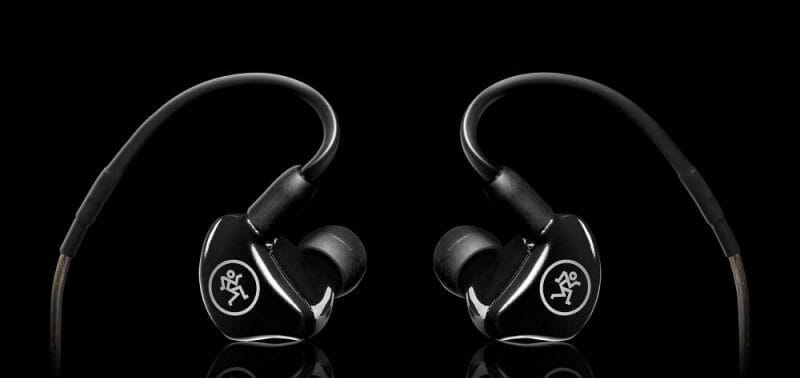 The arm (the part of the earbud that goes into your ear) is slightly bigger than normal.
But the sound quality is still very good. They can get pretty loud and still sound decent.
The bass is boosted a bit, but not so much it's overpowering. The low mids are a little sparse, but the rest of the frequency range sounds balanced.
With this IEM, you get a carrying case and an 1/8-inch to 1/4-inch adapter. Plus, plenty of different ear tips (memory foam tips, dual flange tips, and standard gel tips).
The MP-240s do not come with a transmitter or a receiver.
What do customers have to say?
These IEMs are both affordable and deliver quality. A gigging musician said they have a nice balanced sound throughout the frequency spectrum.
Sennheiser IE 800 ($939.99)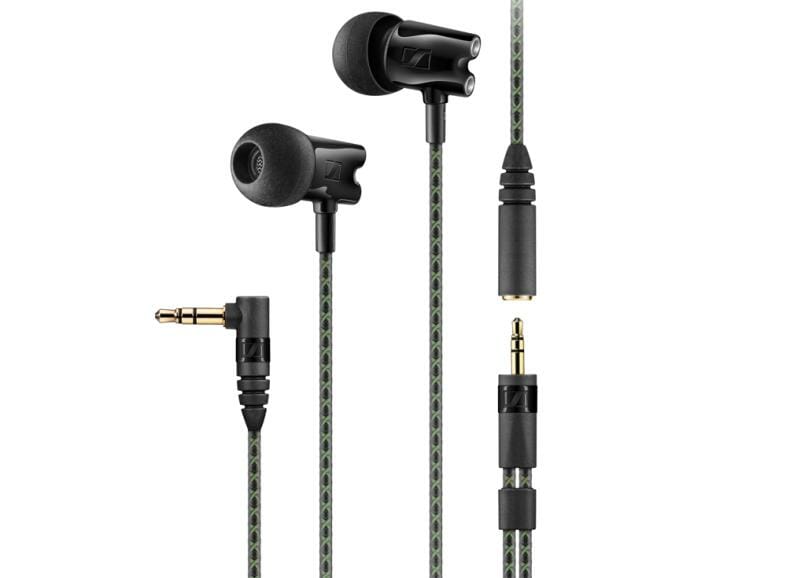 The Sennheiser IE 800 is very expensive (~$1,000), but it delivers top-notch audio quality.
Technically marketed as high end headphones, the superior sound isolation makes them great candidates for monitoring as well.
And that's regardless of what area of the frequency spectrum you're talking about. These IEMs have clear highs, warm mids, and rich lows.
The ear tips are removable, making them easy to clean or replace. Plus, they have protective filters to help keep dust and sweat away from the drivers.
Unfortunately the cable they come with isn't replaceable. So if the cable goes, so do the headphones.
They do not come with a transmitter or receiver.
What do customers have to say?
Reviewers like the isolation these IEMs offer, which is perfect for playing live. They're also blown away by the comfort and sound quality.
Are they worth the price? Probably not for most people. But the quality is high enough that they deserve a place on this list.
Shure SE535LTD ($449)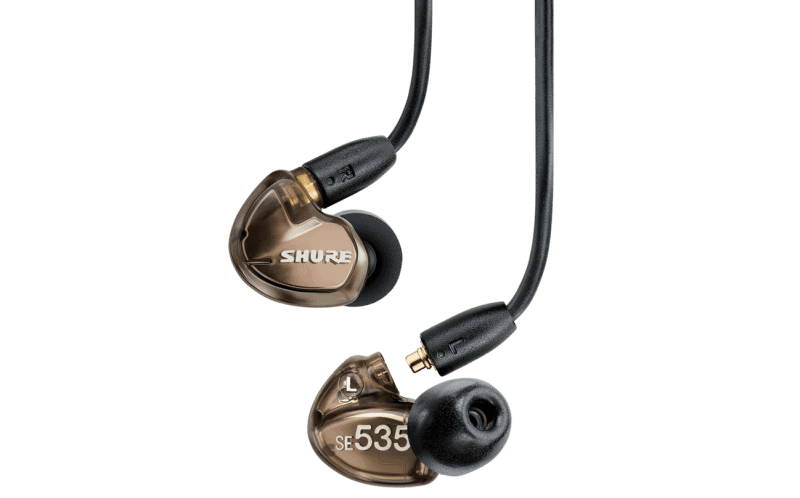 By now, you should know Shure is one of the most trusted names in audio. And their SE535LTD IEM does not fall short of their reputation.
The noise isolation is very good, and the audio quality is exceptional. The low end is rich and tight, and the mids and highs are clear.
The earbuds themselves are larger than average IEMs. But that could be good news, as they may stay in your ears better.
What do customers have to say?
The sound is balanced, the fit is comfortable, and the earbud cord is strong, long, and you can replace it if needed. Plus, you get multiple ear tips to find one that fits your ear!
Conclusion
Picking the right in-ear monitors is tricky. You have to find something that matches your budget and your needs.
This list should help you quickly zero in on which pair best suit you. Just don't forget to factor in the cost for a transmitter and receiver if they don't come with the earphones!