Finding the right guitar effects software can be a real hassle.
The list of great programs is just about endless. How do you pick something when there's so much to choose from?
To help you find the best option for your needs, we've found the 11 best guitar effects software of 2023! 
Get industry-quality every time (steal this framework)
I'm guessing you're here because you want to make your mixes sound professional. Well, you don't need expensive gear or software to do that – you just need the right knowledge.
We put together a brief training that covers a totally new approach to music production. Until now, everyone has been teaching production totally backward.
Just click below to watch.
But if you want to learn about Guitar Effects specifically, keep reading!
Why Guitar Effects Software?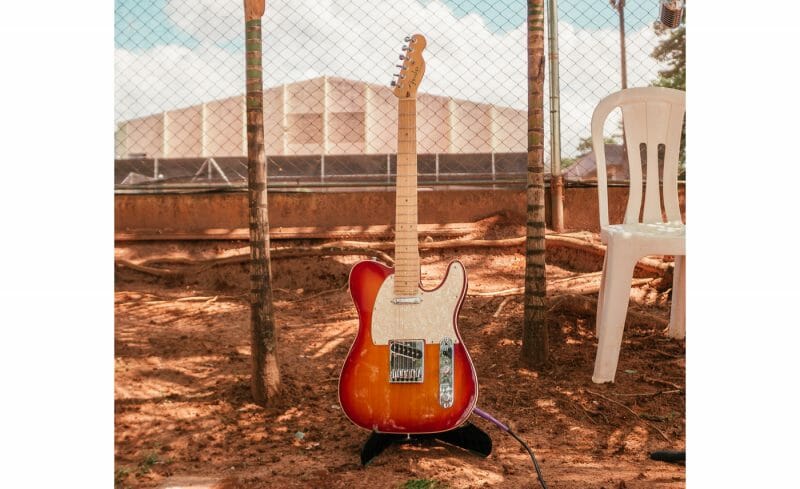 There's more to great guitar tone than cool amps. It's also important to find the right effects to complement your sound!
But the cost of buying pedals adds up quick. Getting a great sound on a budget can be a big challenge.
Well…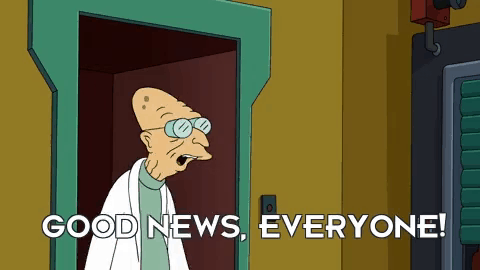 There's a lot of affordable guitar effects software out there to help you supercharge your songs.
To help you find the right one for you, we've picked out all the best guitar effects programs. We even split them into different categories for why you'd want them.
Whether you're writing jazz or metal, there's something for you in this list!
A Quick Note
There aren't a ton of EQs, reverbs, or compressors on this list.
Outside of bundles like Bias FX 2, there aren't a lot of emulations of compression or EQ pedals. The stock plugins in your DAW do the trick well enough.
So don't worry too much about finding a guitar-specific EQ or compressor. The ones in your DAW will work just fine.
Clean Tones
If you write pop, jazz, indie, or anything on the softer side, you'll definitely want a solid clean tone.
Fortunately, Blue Cat is here for you! Blue Cat has two different guitar effects bundles chock full of terrific clean tones.

Like the name suggests, this is a pack of free effects.
They may be free, but these plugins pack a lot of punch! The chorus and flanger in particular blow me away.
So if you're looking for some good modulation effects, this is for you!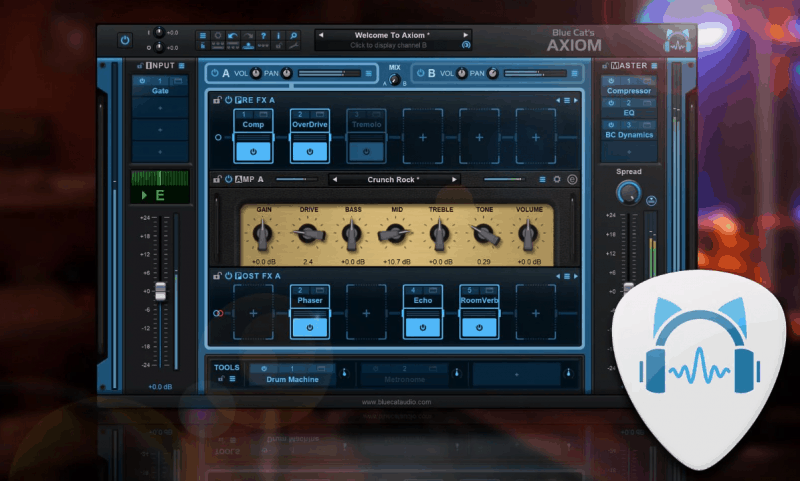 Axiom is Blue Cat's premium guitar effects software, and it's well worth the money.
You can definitely get some heavier sounds out of Axiom. But the clean ones are particularly impressive.
It has 40 effects plugins included, like their famous Re-Guitar. Axiom makes it easy to get guitar sounds that would be perfect for all of your clean-toned needs.
Having a clean tone doesn't necessarily mean not using any distortion. Axiom's "Blues Drive" is a really nice overdrive.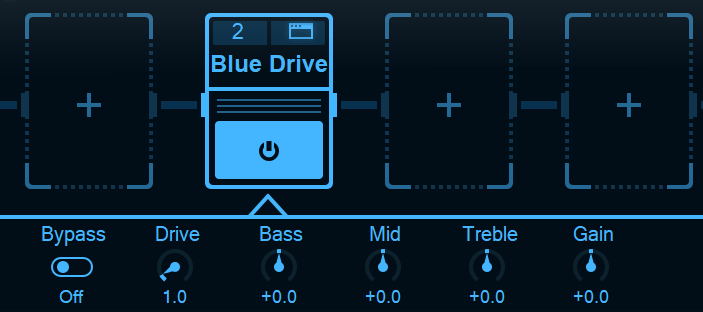 This pedal is terrific at helping clean guitars cut through the mix. It adds a nice bite without sacrificing any smoothness.
You can even load other plugins into axiom and use them in your guitar chain! Want to use the pedals from axiom and can amp model from a different plugin? You can do that!
If you want a software that's useful for recording and performing live, Axiom is a great choice.
Heavy Tones
If you write rock, metal, or anything abrasive, you'll want your guitar tone to be pretty heavy. Here are three incredible options for anyone looking for a heavy sound!
The folks at Ignite Amps have given us three incredible distortion plugins for free.
The ProF.E.T. is a distortion pedal that packs plenty of punch. This plugin gives you a full-bodied tone with plenty of low- and high-end frequency content to work with.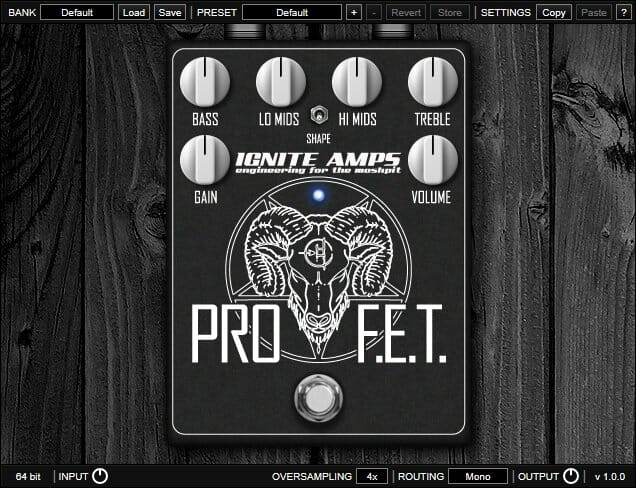 A lot of people pair the ProF.E.T. with Ignite's TSB-1 or TS-999.
If you like guitars that really bite, you'll love both of these overdrives!
TSE has also given us some great free pedals to work with.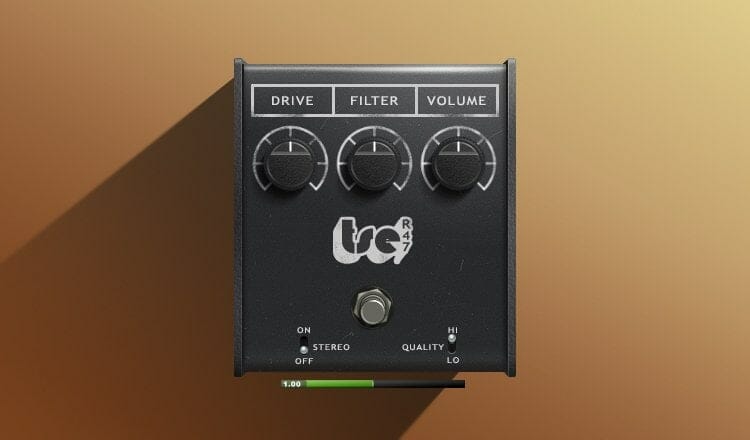 Whether you're writing a crunchy blues solo or a squealing prog riff, the R47 is perfect for any screaming solo.
If you write metal, you should really consider investing in the NTS Suite from Fortin. The tones on this thing are huge.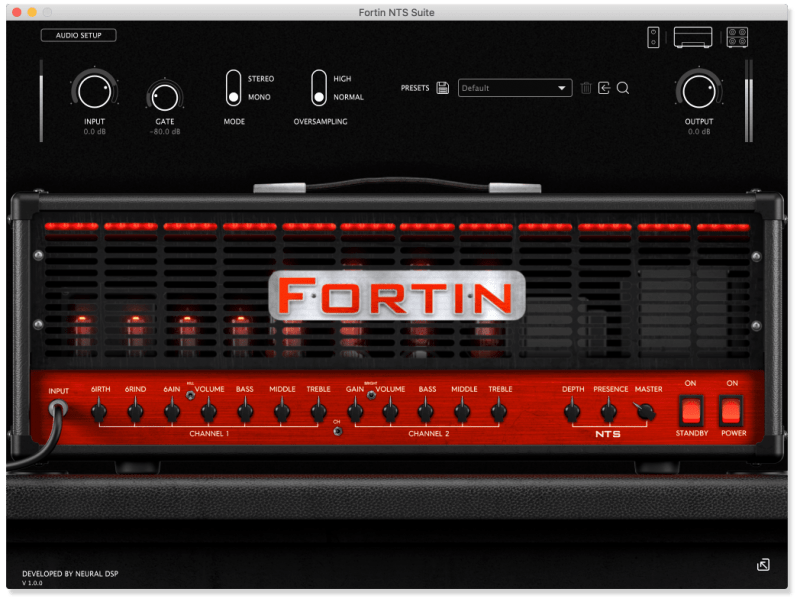 Fortin's given you everything you need to make your guitar sound super aggressive.
This suite comes with three different in-box pedals that absolutely rock.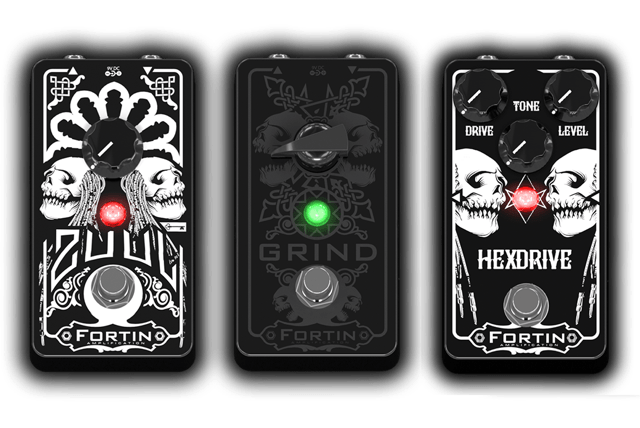 First off is the Zuul, which is actually a noise gate. Which might not sound super exciting, but the Zuul is a really impressive gate!
You need a lot of gain when playing metal, which means you'll get tons of noise from your amp. With Zuul, you can really push the gain on your amp and still have a tight tone.
The HexDrive is an overdrive pedal that'll add all the crunch you could ever want to your sound.
You know those times when you record a killer riff and think, "Sure, it's distorted. But where's the punch?" Fortin has a solution for that too!
By boosting specific frequencies, the Grind pedal in the NTS bundle delivers that extra oomph you need to melt faces.
No need to load up several different plugins to get the tone you want. Just throw NTS Suite on the track and mix and match to your heart's content!
One-Stop Shop Bundles
These ones have effects for all kinds of tones. You can use them in the studio or even live on stage.
They also come with amp sims [link to amp sim article]. If you're looking for a single software to take care of all your guitar needs, check these out.
Bias FX 2 is one of my favorite one-stop shop plugins for guitar!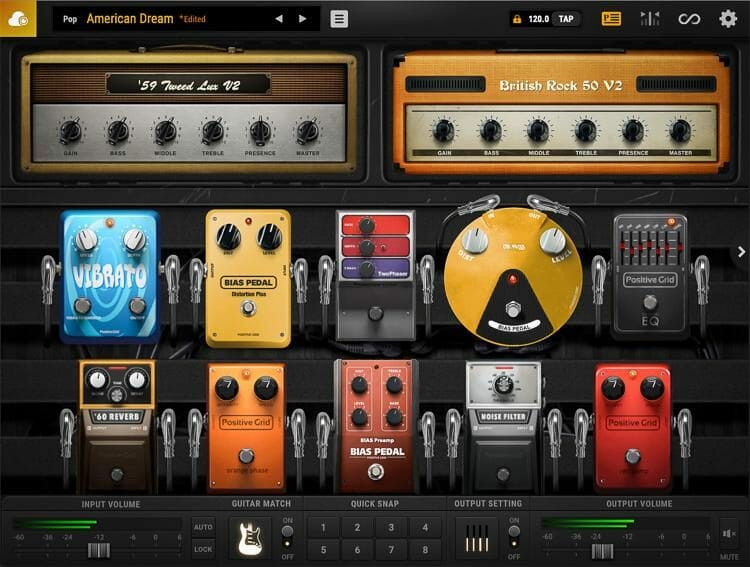 This thing comes with tons of incredible pedals to play with. It really doesn't matter what kind of tone you're looking for, you can get it with Bias FX 2. 
One of the great things about Bias FX 2 is it's really easy to use. The layout is simple and intuitive. So it's really easy to start using right away!
It also comes with something called Guitar Match.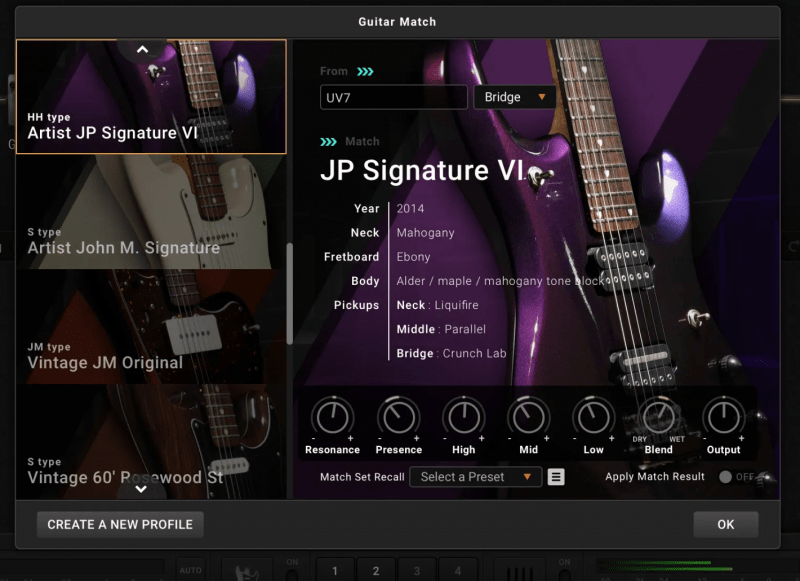 Do you like the pedals you're using, but the tone still doesn't sound right? You can load up the sound profile of a different guitar. 
So if you're using a Telecaster but you want it to sound like a Strat, Bias FX 2 can make that happen!
Bias FX 2's Guitar Match really steals the show. Being able to swap between different deluxe guitar tones will save you thousands of dollars.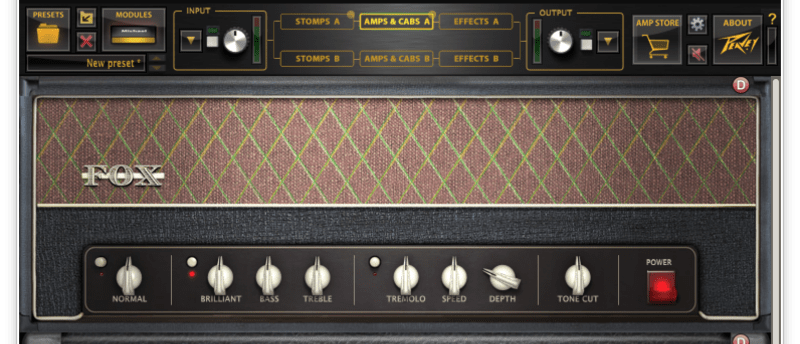 Revalver 4, Peavey's guitar effects bundle, is an incredible piece of gear for anyone on a budget. But don't let the low price fool you, this thing is on par with Bias FX 2.
This program has more amp sims than effects. So if you're looking for a wellspring of pedals, you won't find it here.
But the effects it does have are really great!
The "Pressor" and CE-2 are a couple of my personal favorites. You can get a beautifully clean tone with this compressor and chorus.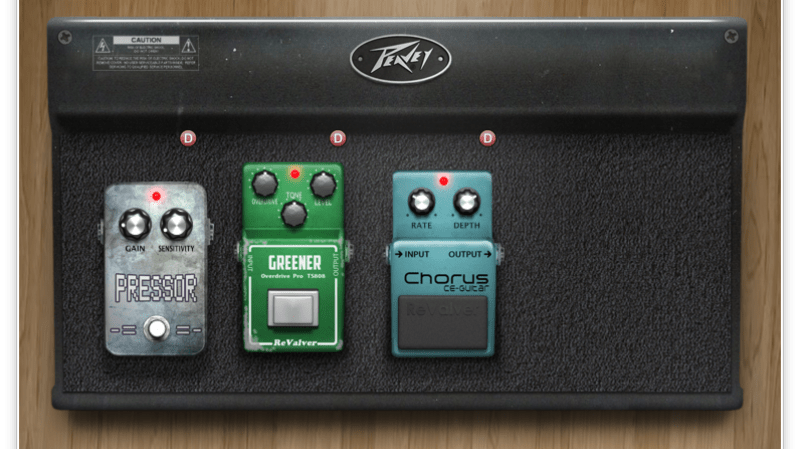 And as far as distortions go, the "Greener" distortion adds a nice crisp bite that's perfect for rhythm tracks.
Plus, Revalver's Audio Cloning Technology does the same thing as Bias's Guitar Match. Swapping out guitar sounds is a breeze!
If you buy the Producer Bundle, you'll get plenty of effects and amps. Or you can download Revalver 4 for free. It won't come with any amps or effects, but you can purchase the ones you want pretty cheaply.
Either way, Revalver 4 is super affordable!
Helix has both quality and quantity. The pedals in this software have been meticulously modeled.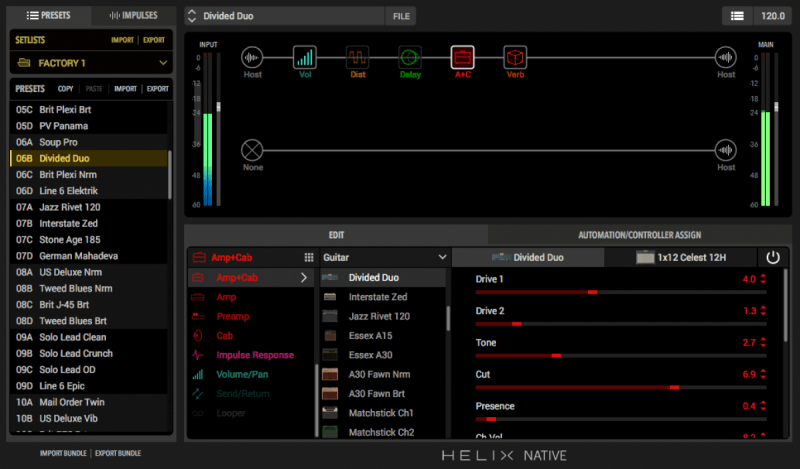 At a whopping $399 Helix Native is not cheap. The price is definitely earned, but isn't worth it for beginners.
I only recommend Helix Native to guitarists who have spent years honing their tone. It's a great plugin, but it's only worth the money if you're already well versed in guitar effects.
Helix has over 100 effects to choose from. Plenty for you to work with!
With blistering distortions, warm choruses, and spacious delays, Line 6 has really done an incredible job.
I'm not wild about the bass guitar tones. So if you're looking for something that'll be good for guitar and bass, Helix may not be for you.
But if you're only focused on guitar, Helix is great!
Other Great Effects
If you're looking for something specific, here are a few other great plugins that you can grab for free!
As the name suggests, Phase90 by Smart Electronix is a phaser.

If you write a lot of solos, a subtle phaser is a great way to add movement to your tone.
Add Phase90 to your arsenal for when you need a little motion!
Acon and Reverb teamed up to bring us an unbelievably simple plugin.
Reverb Solo only has two knobs. One decides the length and tone of the reverb and the other lets you change your dry/wet signal.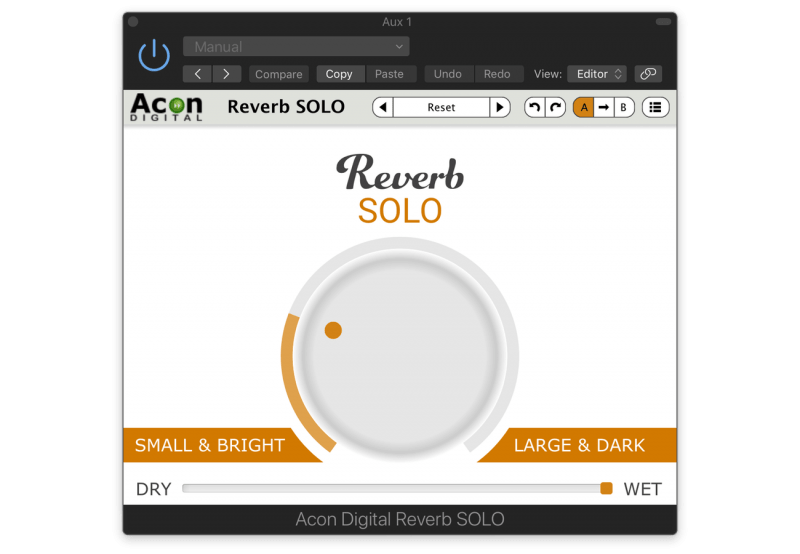 Dialing in your reverb takes literally a matter of seconds. 
You may not have a ton of options to choose from, but don't worry! This thing still sounds great.
No need to spend a ton of time finding the right reverb for your guitar! With Reverb Solo, you can really just set it and forget it.
Simulanalog's plugins don't exactly look all that inspiring.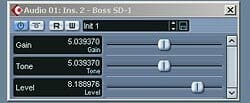 But what they lack in beauty they make up for in tone!
This bundle comes with three different distortion pedals, a phaser, and a modulation plugin.
It's definitely worth checking out. It's free, after all!
Conclusion: Guitar Effects Software
There are plenty of great guitar effects programs out there today. These are the best guitar effects software of 2023:
Blue Cat Free Pack
Blue Car Axiom
Ignite Amps Distortion Plugins
TSE R-47
Fortunately NTS Suite
Bias FX 2
Revalver 4
Line 6 Helix Native
Smart Electronix Phase90
Acon Reverb SOLO
SimulAnalog Guitar Suite
Think about what kind of guitar tones you want and what your budget looks like. Once you know what you need, this list should help you home in on what software's best for you.
For example, what if you want heavy and soft guitar tones, but you don't have money to spare? Blue Cat's free bundle and Ignite's distortions are probably your best bet!
UPDATE: Check out this video on getting a BIG sound for your guitars:
Next Steps
If you want to dig deeper into music production and learn what it actually takes to make mixes that sound pro…
And you're an intermediate or advanced producer…
Be sure to check out the free masterclass:
Enjoy!